EBO SE, Your Family Companion AI Robot
Love prevails even through Remote Companionship.  EBO SE.
Accompanying and companioning are the eternal propositions of the family. If you go out a lot and have a caring member at home, then EBO SE must be suitable for your family.
Accompanying children: do not miss their growth, stay with them at any time.
To accompany the elderly: You accompany me to grow up, and I accompany you to grow old. Say goodbye to loneliness.
Accompanying pets: attract pets anytime, anywhere, say goodbye to loneliness.
Give a sense of security: regular cruises, reminders of changes, and give you a safe home.
Remote control, hide and seek with children
EBO moves back and forth, left and right, with the crawler movement chassis and flexible rotation, it shuttle freely.
You may play hide and seek with your child even if you are not at home. You can check out where the child is at your fingertip.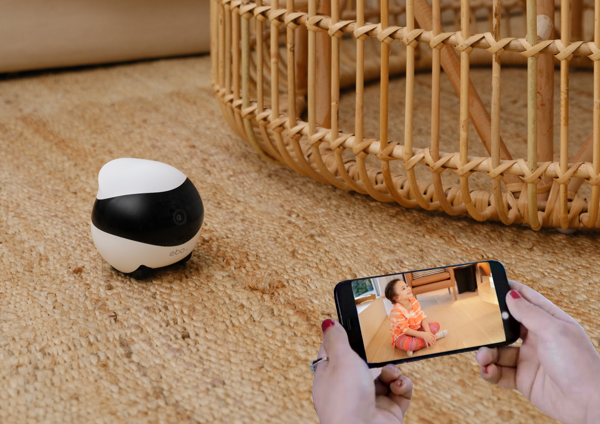 Two-way voice, one-way video
Two-way voice mode, communication is as smooth as a phone call. One-way video, enables you to see your family up close.
The answer to Security you wish you had. EBO SE.
It will automatically detect moving objects within the specified range of vision,
And push the transaction information through the APP in time.
Specifications

 
Description
Parameter
Patrol


Remote Control

Live streaming with 480p
Patrol
Obstacle Avoidance
Using TOF technology
Wireless connection
WiFi 2.4G/5G
max 20m away from router 802.11.b/g/g
Obstacle Avoidance

TOF

1.6m/s
Camera Specs
Video Photo
1080p @ 30fps 1920*1080
Storage
Main Storage
16GB/32GB
Transmission
Video
720 @ 30fps/480p @ 30fps
Sensor
Gesture
TOF
Infrared Sensor
Starlight CMOS image sensor
6-axis IMU
50mm-1500m
X 6
SONY IMX323
Motor
Brushless Motor
X 2
Charging
Input Voltage
Input Current
10.6V-12.6V
600mA max
Charging Stand
Input
Output
12V @ 1A max
12V @ 600mA max(Ebo)
5V @ 20mA max(Collar)
Collar
Battery Sensor
3.7 @ 55mAh, wireless charging, upto 30 days on a single charge 6-axis accelerometer , gyroscope